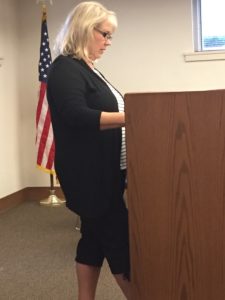 It may have been raining–downright stormy–on August 10, but over thirty people turned out to hear me read selections from my debut novel, A Hollow Bone. The Plymouth Public Library was the perfect place for me: plenty of room and the staff were so gracious and helpful.
I choose three pieces:
The first chapter, which I like because it sets the tone for the novel and gives readers a good idea of June's conflicted personality.
Part of the chapter where June and Frank move to 10th Street after Frank comes home from the war. I like the frustrated domesticity of that chapter as well as how layered it is. There's the "fun" scene when June meets her neighbors and the heart-rending scene when Angelina is forced to accept her parents' move away from her beloved grandparents.
Lastly, I chose the Easter Egg Hunt chapter, as it gives us a glimpse of Angel as a mom, Sophie as a child, and it was one of the very first pieces I wrote in this novel.
Thank you again to everyone who was able to attend. I hope to do more events like this one in the future.